Silicone wristbands, also named rubber bracelets, have been an important part of human life. Nowadays, these colorful silicone wristbands have became a popular way to make a statement. People show their support and concern for a cause by printing different words on the silicone wristband, such as charity, cancer or homeless.
There are many reasons people like to wear silicone wristbands. 6 reasons of them are as follows:
Wearing Silicone Wristbands For Fashion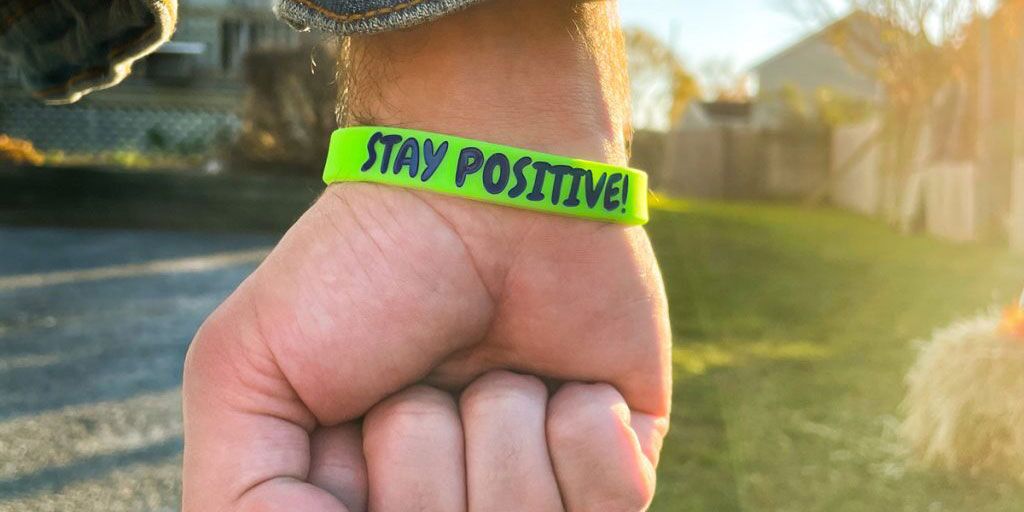 More and more people like to spend the time to enhance their appeal. Apart from many clothing trends, we have lots of accessories to try and look attractive. Silicone wristbands are among them. It can be wron anytime. They are colorful, cost-effective, and easy to wear.
Wearing Silicone Wristbands For Awareness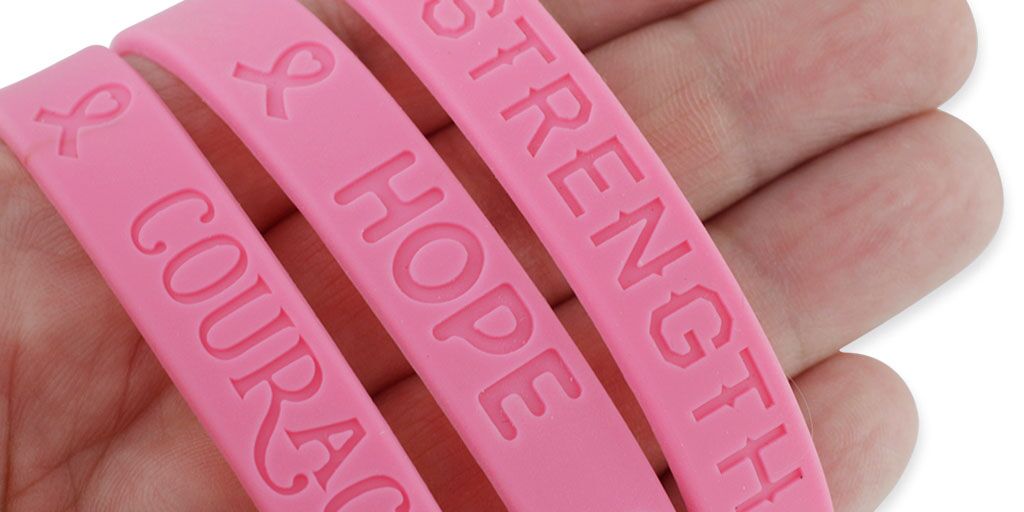 Awareness silicone wristbands are often supported a cause or group. Creating awareness can be difficult and expensive. However, awareness silicone wristbands are an effctive, low-cosr solution to benerate buzz and increase visblity of your organization, brand, company, or cause.
We can custom different messages, slogan, website or phone number on silicone wristbands to raise your awareness. Awareness bracelets for a cause can perfectly reflect an organization by creating the wristbands using the company's colors, slogans, and/or logos.
This is a perfect and affordable option to raise awareness since you can order hundreds to thousands for a low cost that can then be handed out at events to supporters, volunteers, and interested parties. The wristbands can also be used to raise funds by selling each one for a few dollars.
Wearing Silicone Wristbands For Cancer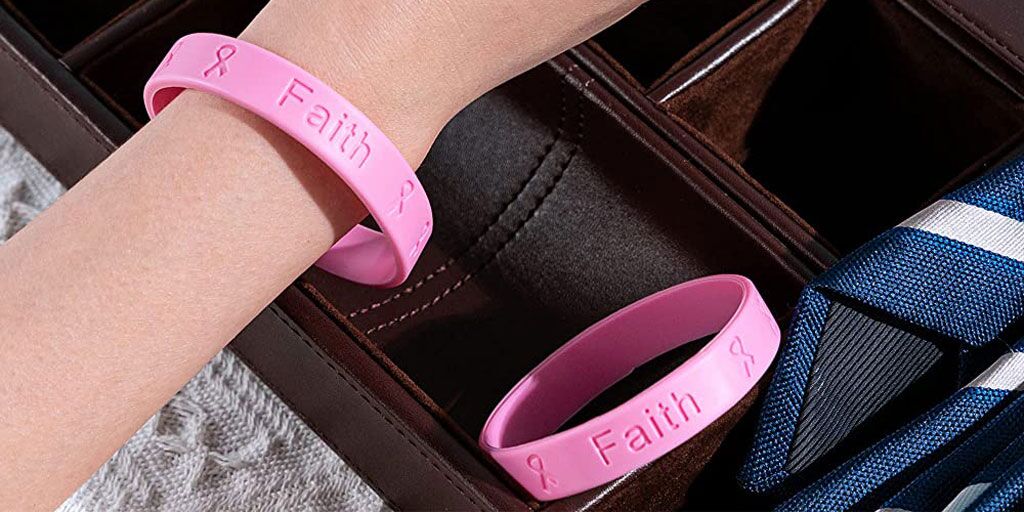 Different colors of silicone wristbands are correspond to different the cancer types. "Color meaning of awareness wristbands" can help you give you a cancer awareness color guide.
Also, some cancer saying are printed on silicone wristbands, including "Cancer Sucks", "Strength", "Hope", "Courage", "Survivor", "Find A Cure", and so on.
Wearing Silicone Wristbands For Fundraiser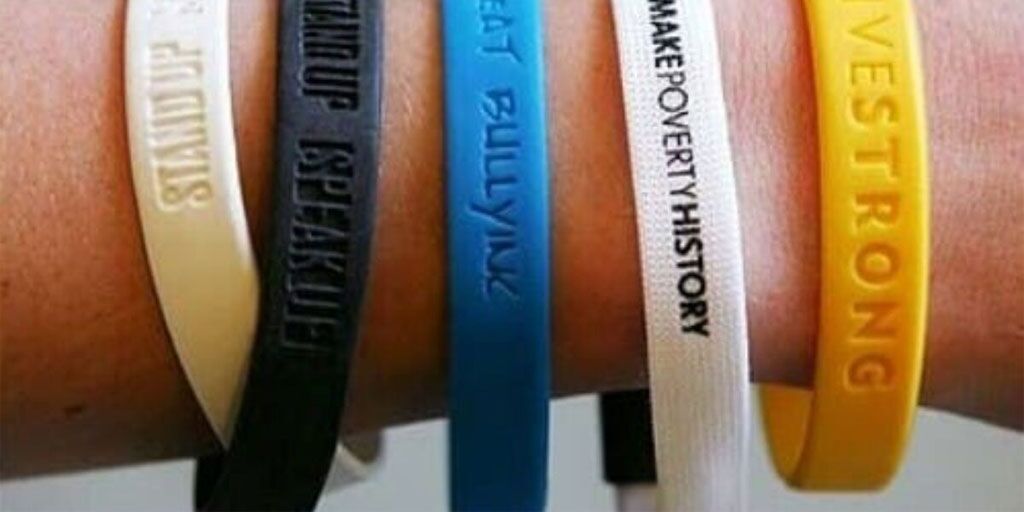 Fundraisers are events where you raise money for a cause, charity, or non-profit organization. People have fundraisers to show support to a cause most likely from being inspired by someone. It is a way of helping others and make a difference in this world. There are many different kinds of fundraisers people have, including a wristband fundraiser where you sell Silicone wristbands for people to buy and wear to show support to the cause.
Fundraising wristbands are a perfect way to raise money and awareness for your cause. The most common wristbands used for fundraisers are our Silicone Wristbands because they can be worn any time you want for however long you want.
There are many different causes in the world that can be amplified with support and awareness through fundraisers and wristbands. For example, cancer is a very popular cause where personalized silicone bracelets can be given out to raise awareness and money. Another great example is to have anti bullying wristbands to raise awareness for anti-bullying purposes. Lastly, churches hold fundraisers which are very common. For example, fundraising can be done for mission trips and an easy way to do so is by selling church bracelets with your logo and name on them to spread awareness.
Wearing Silicone Wristbands For Memorial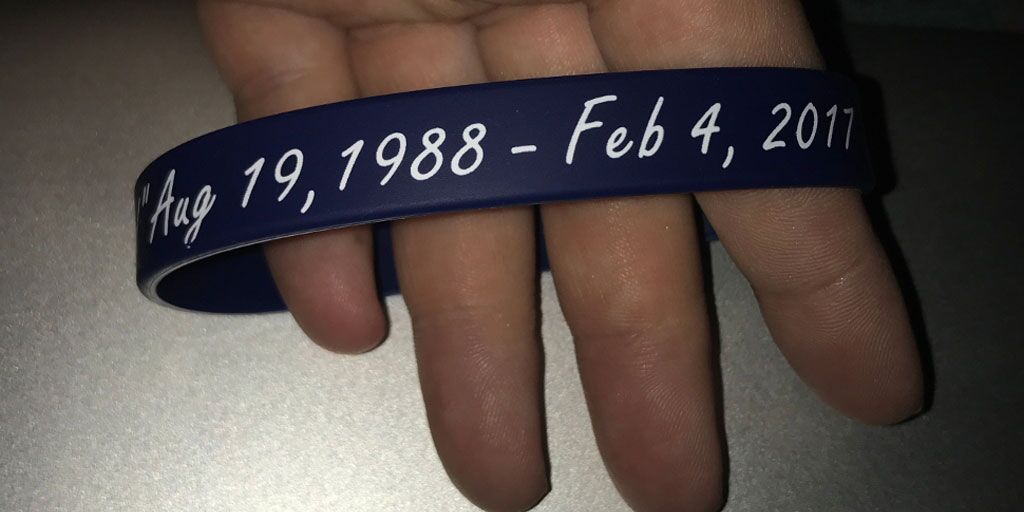 Memorial wristbands are wonderful for commemorating your special someone. It is not uncommon for individuals to create custom wristbands to help raise funds for funeral costs or to give to family members as a thoughtful way to remember a loved one. Creating a memorial silicone wristband can be an extra special way to show condolences.
Customize your high-quality, memorial bracelet in ways that help you remember your loved ones in a personal way by making the bracelets their favorite colors or adding meaningful art or that represents their favorite sports, hobbies or personality. We have millions of clip art selections to choose from that can help you make your memorial bands reflect your dear one in a warm, personal way.
Wearing Silicone Wristbands For Other Special Meaning
Achieve your marketing goals
Want to get a unique idea to advertise your product in the market? A silicone wristband can be one of the greatest methods to market a product or services. Engrave the name of your company brand with a logo over debossed wristbands and distribute them in your business conferences and trade shows. Your business will be automatically promoted to new consumers when people will become walking advertisements wearing the colour and logo of your company.
Event Souvenirs
Increase the popularity or fame of your event by providing a silicone bracelet to your attendees who could wear it to their heart's content. People like to have souvenirs to make some event memorable. For occasions like marriage or birthday celebration, you can use embossed wristbands with engraved names of your guests to give them a personal touch.
An entry ticket for a festival
Festivals, fairs, and carnivals are bustling events with lots of people in them. You would find it difficult to have a track of all the people present there. In such situations, a debossed wristband would prove really helpful and can be used as an entry ticket. The other methods such as a paper ticket may lose or worn away at any time. But, a wristband-ticket proves durable and reliable during a whole event, alleviating the burden of security staff.